History
Stern Village was the vision of Henry S. (Sam) Stern who served as the Chairman of the Board of Commissioners for 20 years. It was his initiative, resourcefulness, and perseverance that was responsible for the construction of 186 units of State Elderly Housing and 36 units of Congregate Living for the elderly that need assistance. Mr. Stern's life was dedicated to building homes for senior citizens, where quality of life and dignity could be maintained in a garden-like environment. Stern Village represents his vision.
The single story apartments known as Stern Village were built in four phases. The first 50 units phase was initially occupied in March, 1972. Thereafter, 50 more units in October 1975, 50 more in November 1980, and the last 36 were occupied in June 1984.
About the Trumbull Housing Authority
Stern Village is run by a Board of Commissioners, appointed by the First Selectman of Trumbull. This group of five dedicated volunteers works closely with the Executive Director to ensure the well-being of the residents and overall facilities. Public meetings are held on the 4th Monday of each month in the Community Room.
THA Commissioners:
Chairperson: Jan Kopchik
Vice Chairperson: Linda Nassrah
Treasurer: Thelma Burr
Assistant Treasurer: Susan Fatse
Secretary: Suzanne Donofrio
The Trumbull Housing Authority (THA) is a non-profit organization governed by the Connecticut Housing & Finance Authority and The Department of Housing.
The land and property is owned by the THA. The Village does not receive any funding from the state, however, we must adhere to their policies and procedures.
We are NOT Federally funded. We DO NOT take vouchers. We are NOT a HUD property.
Trumbull residents' tax dollars DO NOT support the THA.
Beautiful Park-like Setting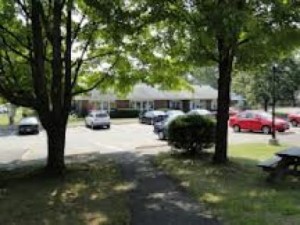 Stern Village is adjacent to one of Trumbull's beautiful parks, Beach Memorial Park. Stern Village was built on approximately 16.2 acres of land.
It's a 3 mile walk around the Village, starting at apartment #1.
The Village is surrounded by woods and flowering shrubs, in a beautiful park-like setting. Many of our residents have magnificent vegetable gardens. You will find peach trees, grape arbors, flowering scrubs, and an assortment of flowers as you walk around our community.
The residents of Stern Village are fastidious about the inside and outside of their apartments. Our Maintenance staff ensures that the property is groomed and well-taken care of.
S

tern Village
The Village is a vibrant community comprised of energetic and enthusiastic 62+-year-old seniors and 18+-year-old residents with disabilities. We are not a HUD property and we do not accept families with children. There are 186 apartments in the Village. -There are 4 apartments to a building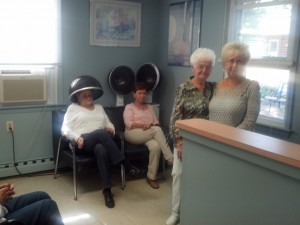 or quad. -Apartments are either small one bedroom apartments or slightly larger one bedroom apartments. -Three laundry rooms are located in the Village and they are accessible to the residents. -Clotheslines and trash/recycling areas are near the quads. -A beauty salon is located in the Village. -Each apartment has a galley kitchen equipped with a refrigerator and stove.
Square Footage Per Apartment:
Small One Bedroom: Total of 320 square feet.
Living Room: 10′ x 11.6′ Bedroom: 10.6′ x 6′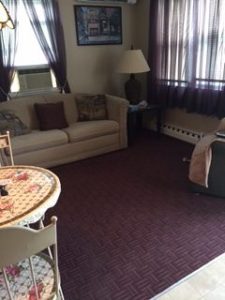 One Bedroom: Total of 425 square feet
Living Room: 12.10′ x 11′ Bedroom: 11′ x 11.5′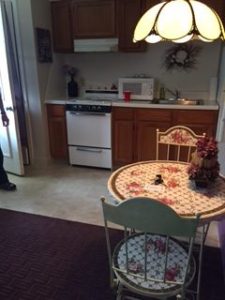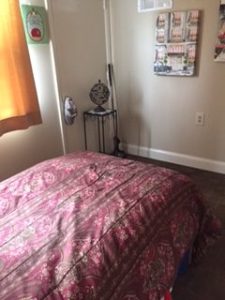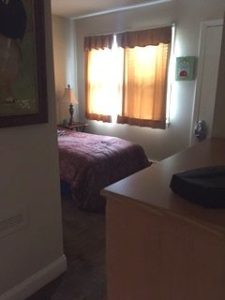 Stern 

Center – Congregate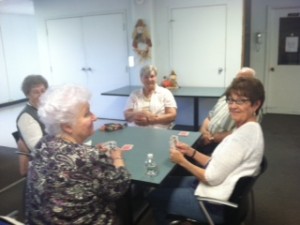 Stern Center, (Congregate Building) was finished in March 1991. The Congregate is a two story building with 36 apartments. Efficiency apartments are approximately 400 square feet. Residents get their apartment cleaned weekly; heating for apartments is included in their rent; Lorraine, our cook, prepares the meals served daily at 12 noon; and an attendant is available in the office 24/7. Laundry rooms are located on each floor. There is a game area with computers, and an exercise and craft room.
Congregate residents must be 62+ years old and have one or more difficulties with daily living. The Congregate is meant for the Elderly and Frail. The Congregate residents (who qualify) receive additional funds from the CT. Department of Housing.