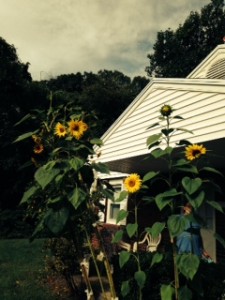 Stern Village is a 

Community within a Community
-Stern Village is run by a Board of Commissioners, appointed by the First Selectman of Trumbull. This group of five dedicated volunteers works closely with the Executive Director to ensure the well-being of the residents and overall facilities. Board meetings are held on the 4th Monday of each month in the Community Room.
Village Living
-There are approximately 4 apartments in a quad or building. Most of our buildings are non-smoking.
-There are 3 laundry rooms with brand new, commercial LG front loading washers and dryers for your convenience and clotheslines for each quad or building. Stern Village residents are not allowed to use the Congregate laundry rooms.
-Garbage and trash receptacles are located outside your building.
-A beauty salon is located within the village.
-Applications for Stern Center-Congregate are available all year long.
-Check the Apply for Stern Village page to see if applications are currently being accepted.
-The Village has a generator in the Community Room and the THA & Executive Director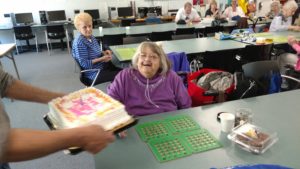 have implemented town-approved Emergency Management Plans, enabling our Community Room to serve as a shelter and command post in the event of a weather-related emergency, such as experienced with Hurricane Sandy.
-A Stern Village Neighborhood Watch, comprised of resident volunteers, patrol Stern Village to help ensure safety.
-Parking at Stern Village is for residents and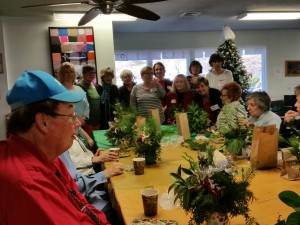 visitors only. There is no assigned parking. Residents MUST have a THA sticker in their car window and their registration must be current. Cars illegally parked will be towed at owner's expense.
-Visitors MUST park by the Congregate.
TRUMBULL SENIOR CENTER MEMBERSHIP & TRANSPORTATION
-The Senior Center currently provides transportation for Members age 55 and older (disabled and seniors). Transportation is for medical appointments and shopping. Senior Center Membership Applications can be obtained in the Community Room and at the Congregate. Membership costs $5.00 annually. Reservations are available Monday-Friday, 8:30 am – 3:00 pm. Reservations should be made in advance by calling Ashley Grace at 203-452-5137. Residents must be an existing member to make a reservation.
-Click here www.knowhowtogoct.org for all types of transportation including residents with disabilities. Also, if you want to buy a Metro Taxi card, they will match amounts from $25 and up, i.e., if you buy a $25 card they will give you a $50 card.
-We strive to Build Community Partnerships. Several of Trumbull's organizations have been active in Stern Village. These groups include but are not limited to: The Trumbull Rotary Club, The Boy Scouts, The Girl Scouts, The Trumbull Library, Long Hill Garden Club, Home Depot, and others. Individuals from these organizations have volunteered their time and energy to visit and help our residents, create and implement a beautification project for our Community Room, or donated much-needed equipment. We are thankful for their support and we are always seeking to build community partnerships.
DISCOVER CONGREGATE LIVING
-If you are 62+ years old and considered frail The Congregate at Stern Village could be right for you!
-Applicants must have one or more difficulties with daily living. This could be feeding, dressing, bathing, grooming or transferring.
-The Congregate is not assisted living, nor is it a nursing home. It is independent living with some supportive services.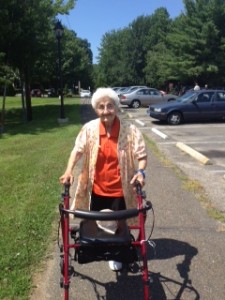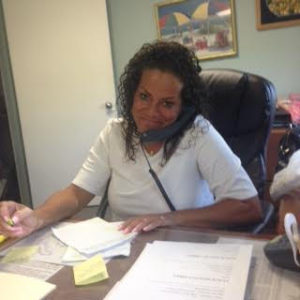 Daisy Torres, Congregate Manager
Join our caring, fun-loving and active community of 36 congregants. Reside in a roomy efficiency apartment, with lots of closet space. Several amenities are included! You will receive 1 full-course meal prepared by our renowned Chef. Meals are served daily at Noon. Apartments are cleaned weekly and there is an office attendant, 24/7. Enjoy several weekly activities, wellness programs, entertainment, and lots more! Eligible residents receive assistance from the DOH.
Interested? Please contact Daisy Torres, Congregate Manager,  at 203-459-1110, extension 2, or daisy@sternvillage.com for more information.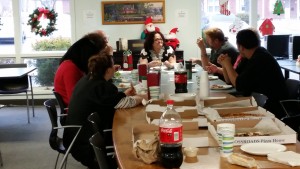 Madeline Smerglinolo 1943- 2016  Our Congregate Manager, Madeline Smerglinolo, passed away in March 2016. She spent over 20 years caring for the residents of Stern Center – Congregate. She was adored by the residents, caregivers, and staff. Madeline touched everyone with simple kindness. She inspired and provided guidance to many individuals. Madeline was truly a remarkable woman and we will miss her beautiful smile and infectious laugh. 
If you are interested in volunteering at Stern Village, please contact Harriet at harriet@sternvillage.com
-Click here for the: Updated Animal Policy – 04252018
-Hair Salon – located inside one of our laundry room buildings.
Haircut $11 & dye $5. Sheila – Tues & Wed 11:00 a.m. to 2:00 p.m.  Betty Fridays by appointment only.
ADDITIONAL SERVICES:
-Meals On Wheels – CW Resources – please contact Laura Palmieri at 203-332-3264
-Trumbull Senior Center – Michelle Jakob, Director – 203-452-5199
-Trumbull Social Services — Jennifer Hofford Gillis, B.A. — 203-452-5133
-Trumbull Library – Homebound Services–203-452-5197 or click here www.trumbullct-library.org
-Commission For The Elderly – Gary Raytar-203-400-8178
FOR AN EMERGENCY DIAL 9-1-1
POLICE STATION (NON-EMERGENCY): 203-261-3665
The Town of Trumbull eNewsletter:
The Town of Trumbull has a weekly newsletter that has all the town info including the Trumbull Senior Citizen Newsletter, library events, concerts, etc. You can sign-up to be on their email list by clicking: http://www.trumbull-ct.net/eNews_Signup.htm