Stern Village Needs Your Help!
Over the past several months, the Executive Director has developed fruitful and productive relationships with several organizations, companies and Trumbull residents. Our "Community Builders" and Friends of Stern Village have provided Stern Village with supplies for our Emergency Shelter, equipment for our Stern Village Neighborhood Watch, monetary donations to defray the cost of food for our Stern Village Events, as well as, donations of computers and indoor sports equipment.
Through the kindness of The Trumbull Rotary, we have over 60 cots, blankets, linens and pillows for our Emergency Shelter. We also have directional signs throughout the Village, thanks to The Trumbull Rotary. Thanks to The Trumbull Library, we held bi-monthly computer classes for the residents. The Girl Scouts of French Town Elementary School entertains and help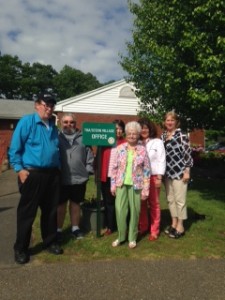 s our residents. The Boy Scouts created a beautiful flower and serenity garden. Team Home Depot constructed a horseshoe pit for our residents.  Rhonda Mercer, of Aquarion Water Company, discussed the importance of conserving water and she donated water bottles water bottles. Aquarion also donated a Wii system and games for our residents. Words can not express our gratitude to these people, companies, and organizations that continue to help make Stern Village a great place to live.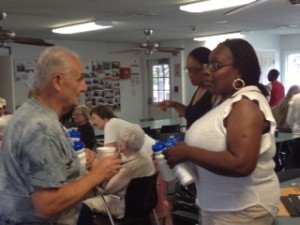 Stern Village is extremely interested in developing Community Partnerships with local businesses, organizations and the caring residents of Trumbull.
We are always seeking donations and support in a number of areas.
If you are interested in becoming a "Community Builder" by developing a partnership with Stern Village, please contact Harriet Polansky, Executive Director at harriet@sternvillage.com or call 203-261-5740  x 3 for details.